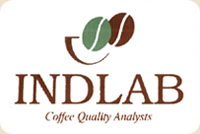 Sensing the need of the clients of Indcaffé, for pre-testing and other attendant requirements, Indlab was born to satisfy such needs. It was an act of synergy too. Indlab was created as a Division of Indcaffé, to further ensure the quality of coffee exported to its customers.

Indlab is equipped with all the ultra modern equipment from Probat, Ditting & Sinar, for sample roasting and other lab testing. Sample of every single lot exported against the contract of Indcaffč, is tasted and cleared by Indlab. Naturally the clients are happy that the turn-key assignment is carried by Indcaffé, with the help of Indlab.

Indlab has been appointed by some of the major clients of Indcaffé, as their official agency to clear the quality before shipment out of India and also for the domestic market.

Mrs. Jessie Ovian who has International Marketing exposure by virtue of her stint with State Trading Corporation, a Government of India Undertaking, heads Indlab.

Mrs. Ovian, holds a Post Graduate Diploma in Coffee Quality Management, sponsored by Coffee Board of India. This rigorous course undertaken by her, gave her insight into various aspects of coffee including International Quality requirement, Quality assessment systems, organoleptic evaluation etc.

She has had the privilege of being trained by a leading roaster in Italy.